University of Alberta Press is pleased to announce its annual Literary Cocktails event. Please join us online on April 28, 2022, at 6 pm MT. Everyone is welcome!
This year, the virtual reading will be hosted by Edmonton Poetry Festival's Artistic Producer, Shima Robinson. The event will feature readings from UAlberta Press' newest poetry collections: Arborophobia by Nancy Holmes, Separation Anxiety by Gavin Bradley, and You Might Be Sorry You Read This by Michelle Poirier Brown, as well as from a new essay collection: Blue Portugal & Other Essays by Theresa Kishkan.
Co-hosted by the Edmonton Poetry Festival.
Facebook event link: https://www.facebook.com/events/388575236418077
Registration link: https://www.eventbrite.ca/e/literary-cocktails-2022-tickets-310806449457
---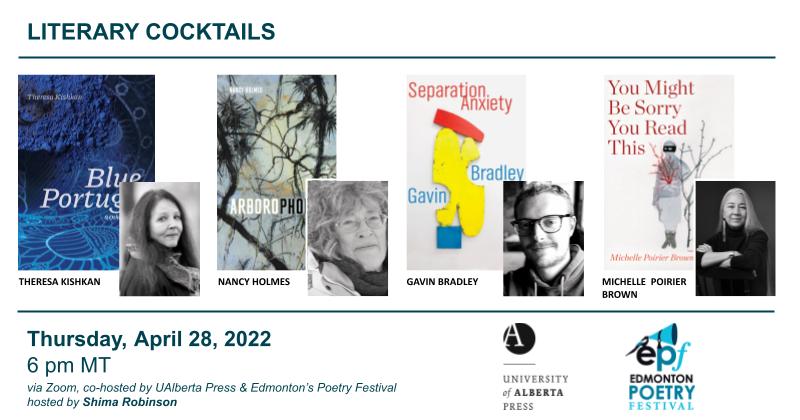 ---
ABOUT THE BOOKS AND AUTHORS
Arborophobia is a poetic spiritual reckoning. Its elegies, litanies, and indictments concern wonder, guilt, and grief about the journey of human life and the state of the natural world; is spiritual and emotional solace possible or even desirable? Answers abound in measured, texturally intimate, and often surprising ways throughout Nancy Holmes's collection, offering both a hard look at what we have done to this beautiful planet as well as to those we love and companionship for all who grapple with the problem of hope in times of crisis.
Separation Anxiety is Gavin Bradley's poignant debut collection. His poems explore the emotional toll of different kinds of separation: from a partner, from a previously held sense of self, or a from one's homeland and the people left behind when one becomes an immigrant halfway around the world. Together, these personal poems build a narrative that describes the loneliness and anxiety experienced by the author since leaving his native Northern Ireland, all while showing a lasting love for the people, the language, and the land to ultimately convey a message of hope.
You Might Be Sorry You Read This is Michelle Poirier Brown's stunning debut collection. Her poetic memoir break silences and reconcile identity as it unflinchingly recounts the author's childhood trauma and her coming to terms with a hidden Indigenous identity when the poet discovered her Métis heritage at age 38. This collection is, therefore, a journey of pain, belonging, hope, and resilience, a demonstration of poetry's power to refine anger into something both useful, often humorous, and even beautiful while nevertheless honouring the complexities of Indigenous identity and the raw experiences of womanhood, mental illness, and queer selfhood.
Blue Portugal & Other Essays is a collection of braided essays through which Theresa Kishkan thinks deeply about the natural world, mourns and celebrates the aging body, interrogates and gently contests recorded history, and explores art and visual phenomena. Gathering personal genealogies, medical histories, and early land surveys together with the liminal spaces of memory and insights from music, colour theory, horticulture, and textile production, Kishkan weaves patterns and dangles loose threads, welcoming readers to share her intellectual and emotional preoccupations. Through this intimate awareness of place and time Blue Portugal & Other Essays offers a sense of wonder at the interconnectedness of all things.