A Guest Post by Richard Costa
When I first visited the Press in late 2019, it was located in Ring House 2.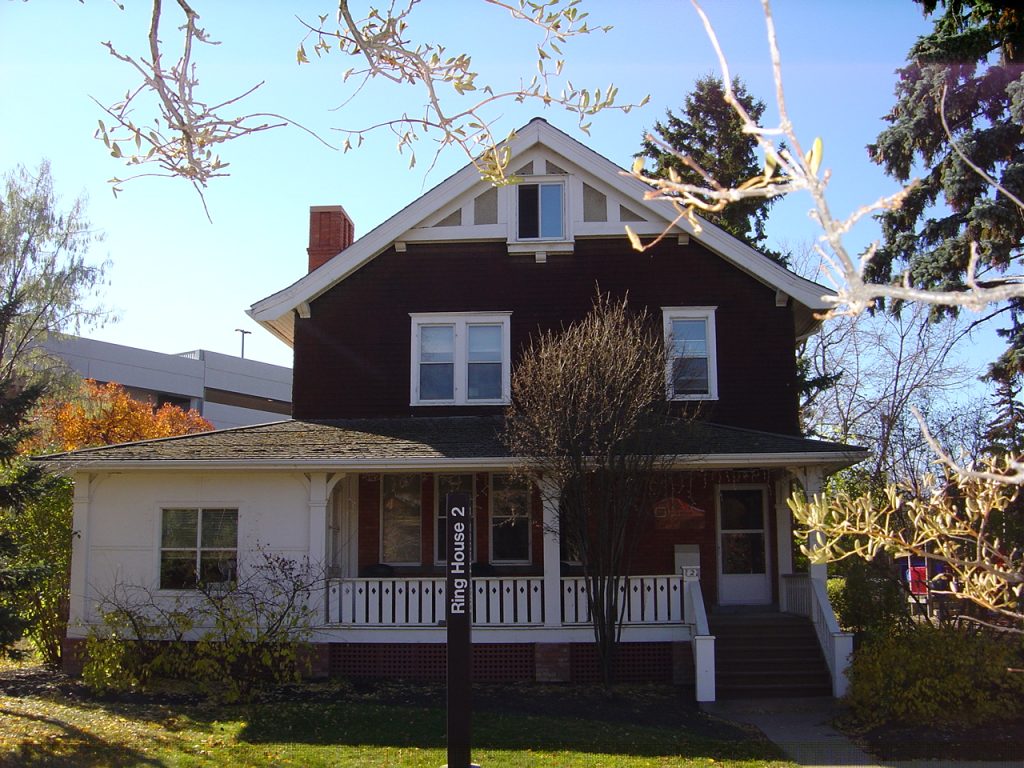 Our Associate Director and Manager of Planning and Operations Cathie Crooks soon told me they were about to move to a new office and this included a lot of packing with another intern. I remember this meeting well. We were maybe vaguely aware of some virus somewhere or other…? Did it even come up? The meeting went great. Lovely people. Gente boníssima. I was so looking forward to working in an office inside the Rutherford Library, my favourite study environment at the University of Alberta. 2020 was going to be a great year.
***
[crackle]
[white noise]
"Richard, sorry, could you please turn off your microphone? There's some background noise…"
"Oh yes, sorry, please go on!"
Earlier…
Later…
"So Richard, you said you went to Ring House 2?"
"Yeah, I saw I had a meeting scheduled on my calendar and it said it would be in Ring House 2, so I just walked over there. I live very close to the university, it's not a big deal. I could use a walk. But yeah, I got there and the house was all boarded up, haha…"
[Screen: kind faces, smiles, laughs]
"I thought maybe there was a socially distanced meeting going on. One of my housemates is still working at the university, so I thought others were too. Anyway, this was great, thanks for inviting me. See you all in September when we start the internship."
I recall my first remote meeting with the Press Committee in September 2020. I hoped no one would notice me on Google Meet. I was in the process of moving to a new apartment and I was thoroughly unkempt; my beard was huge. I tried as much as I could to change that image after that meeting, though it really cannot be improved that much.
Whether I looked good or not, I was there. Every Press staff or committee meeting. Webinars from a variety of publishing fields and spheres. Lectures, business meetings, sales conferences, and deep dives into the nitty-gritty of editorial production—all in my underwear. Yes, I'm joking. Of course. And finally, with my small contributions the University of Alberta Press Golden Pandas remain the vice-champions in the Beer, Books & Trivia event, sponsored by the Book Publishers Association of Alberta.
By far my favourite time at the Press was spending my mornings reading poetry manuscripts. I was by no means a deciding factor with the notes and thoughts I shared with Michelle Lobkowicz, our Acquisitions Editor for Humanities and Literature. Even so, one of the most rewarding moments in my life so far has been to read poets I admire before they were published by the Press. I feel blessed and privileged to follow their work.
Unfortunately, we cannot live on poetry, so I tried to help sell our books as much as possible. Sadly, in order to sell books in the world today, we need social media.
I wrote quite a few tweets. I didn't suck too bad at it, I guess.
#SocialMediaIsEvil #ThisIsWhatBadMarketingLooksLike #DraftsOnly
I helped review catalogues and marketing plans. I assembled academic contacts for our Women's Voices from Gaza series. I helped edit bibliographies to fit a particular style. I assisted Press staff with a variety of tasks, from researching possible reviewers for new titles to organising files. When I look at my list of tasks from the last two years, I see some tasks and projects that took months of steady work:
Learn Submittable
Review budget template for book projects
Sort out permissions files for Vickery
Convert Edmonton's Urban Villages to DOCX
Find reviewers for several manuscripts
Help with Vickery manuscript consolidation
Help with BPAA ebook project alt-text
Review standard contract
Help with manuscript consolidation
Double-check Sociology email list
Write Spring-Fall 2021 covers alt-text
Review bounces in Constant Contact
#NationalPoetryMonth tweets
North American Black Studies email list
Write a blog post on alt-text
Review alt-text spreadsheets
Budgets coursework
Shadow the copy editor of National Literature in Multinational States
Help with cover copy blurbs
Holiday Sale 2021 tweets
Review the acquisitions process files
Help with Overcoming the Neutral Zone Trap ebooks
Review publishing agreement templates
Write alt-text for Blue Portugal
Help with BPAA Awards 2022 submissions documents
Develop an alt-text template for Press authors
It went by too quickly and yet all of this isn't "blurred" in my mind. Okay, maybe some tasks are a bit blurred, but I still recall some of these vividly. Writing alt-text and developing a template for how to do it remains etched in my memories as some of the most important work I will ever do in my life. Accessibility in publishing is not yet what it could be, and I hope my humble contributions will continue to be appreciated by future Press staff.
The pandemic caused me to become a "fly on the wall" at meetings too often, but it's always been difficult for me to follow and intervene in professional meetings; to find a good cue for a relevant comment or question. I hope my presence was enough and that my shortcomings and private issues didn't interfere much. I wish I could have done more for my colleagues and helped more. I wish I'd asked more questions and wasn't afraid to show my ignorance on so many levels.
Learning can happen in different ways, and this mostly remote immersion in the culture of a university publisher as an intern has been transformative and rewarding in ways that are not yet completely clear to me. I have so much work to do as a student, but I know my time at the Press will come back to me over the years. It has given me a much needed second wind in this race called life.
To my colleagues at the Press: the work you do matters more than ever, and I hope you remember this when it becomes overwhelming and difficult. It would take a lot more time and space to fully appreciate your contributions to the Press and to my learning process over the past two years. I know you are all very busy running a cutting-edge publishing house, and I will leave you to it with my gratitude and admiration.