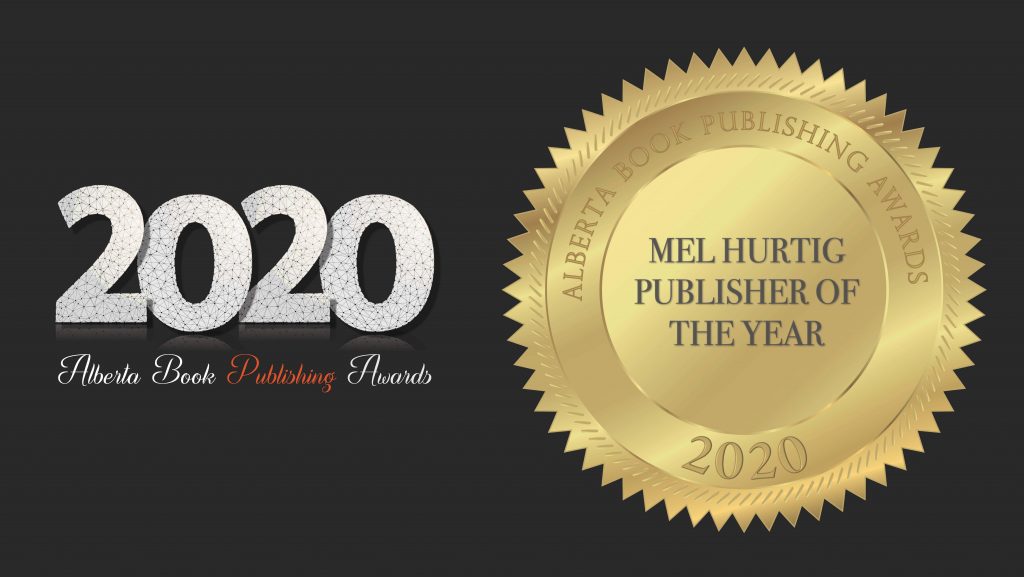 We are honoured to have earned the Mel Hurtig Publisher of the Year award from our publishing peers, recognizing our activities in 2019. Here are some of the highlights from a remarkable year.
New Visual Identity. Our goal was to honour the Press's legacy while reflecting our current publishing program, which is increasingly diverse, urban, and multidisciplinary. The new visual identity was rolled out with our new colophon appearing on books, an enhanced website design, newly formatted catalogues, updated printed promotional materials and display pieces, and stationery. Our website and blog pages were also overhauled, with a clean modern look.
Retooling for Growth. We hired two acquisitions editors, laying the groundwork for the Press's sustainability and growth for years to come. Mat Buntin works remotely in Guelph, Ontario and focuses on the social sciences. Michelle Lobkowicz is tasked with building on the our strong lists in Canadian literature, history, Indigenous Studies, and poetry. Between them, our acquisitions editors hold decades of experience in publishing. We also welcomed Elisia Snyder as our new Administrative Assistant. We further started a new and exciting partnership with the Department of English and Film Studies at the University of Alberta, training one of their PhD students for a term of two years. The first candidate was Tanvi Mohile.
Increasing Our Visibility. During the year we were preparing to move our office space on the University of Alberta campus to the main floor of the historic Rutherford Library South. We also increased our investment in attendance at conferences, which amplified our visibility in several key communities both nationally and internationally and allowed us to move our acquisitions conversations in new directions. And we participated in dozens of events: author readings and book launches, author lectures, literary festivals, media interviews, and displays.
Our List. UAlberta Press has created a diverse and far-ranging scholarly, trade, and literary publishing program. Our books make an important contribution to Canadian literature, culture, and knowledge. In 2019 we published 22 books from a remarkable group of authors.
Commitment to Diversity. We are committed to maintaining and increasing the diversity of authors on our list because we believe strongly that representation matters. Examples of our work in these areas includes:
Publishing women writers;
Publishing work from writers and scholars from coast to coast to coast;
Creating a new series: Women's Voices from Gaza. The first title is A White Lie.
We were honoured to work on titles with two Black authors in 2019: Dionne Brand and Valerie Mason-John.
We are also proud of the diversity represented by the members of our Press Committee.
Awards. A huge highlight in 2019 was seeing one of our authors nominated for a Governor General's Literary Award. Naomi K. Lewis was shortlisted in the Nonfiction category for her memoir, Tiny Lights for Travellers and won the Wilfrid Eggleston Award for Nonfiction. We received numerous other awards and nominations from a range of provincial, national, and international competitions, noting quality in content and design.
Marketing Highlights.
Sandra Semchuk's lecture and launch tour for her book, The Stories Were Not Told: Canada's First World War Internment Camps. Sandra's cross-country tour included stops in Vancouver, Vernon, Fernie, Edmonton, Lethbridge, Banff, Calgary, Saskatoon, Brandon, Amherst, Niagara Falls, Toronto, Montreal, and Halifax.
Selling world French-language publication rights to Mémoire d'encrier (based in Montreal), for Tomson Highway's A Tale of Monstrous Extravagance: Imagining Multilingualism.
Developing a relationship with Pluto Press (UK) that will see us publishing our first co-publication with them in 2021, Kurdish Women's Stories.
Administrative Investments.
Increasing our use of print-on-demand technology, allowing for tight inventory control while ensuring continued availability.
Further experimentation with Open Access publishing.
Making a significant investment in new software for royalties management: EasyRoyalties.
Creating a database of sales information for the past five years.
Community Engagement.
The Press nominated two Canadian writers for honorary doctorates at the University of Alberta: Esi Edugyan and Alice Major.
We also nominated Sharon Budnarchuk of Audreys Books for the BPAA Lifetime Achievement Award, for her 50 years of amazing service to writers, literacy, and book culture in Edmonton and Canada.
The Press continues to engage with the work of The Writing Stick conference, participating in the creation of a web resource by Tanya Ball and Kayla Lar-Son. The web resource is a rich repository of information on Writing, Editing, and Publishing Indigenous Stories.